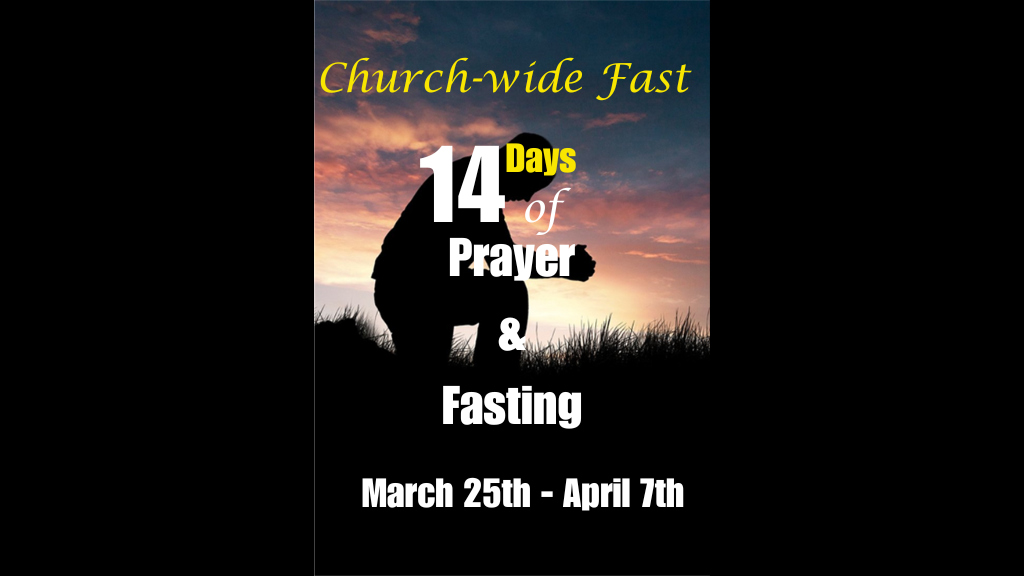 Fasting
To Fast is to abstain from something – usually food and drink, but you can also decide to fast from media and electronic devices for a period of time. There are different types of fasting to choose from but you have to decide which one is right for you. The intent behind fasting is to refrain from something for a certain amount of time with the purpose of growing closer to God.
The Church is preparing for a Church-wide Fast starting 6:00 A.M. Friday, March 24th through 6:00 A.M. Friday, April 7th. In preparation for this special time with God, please examine your heart through prayer and ask the Holy Spirit to reveal any unconfessed sin. Scripture records that God always requires His people to repent of their sins before He hears and answers their prayers.
"In those days, I, Daniel, had been mourning for three entire weeks. 3 I did not eat any tasty food, nor did meat or wine enter my mouth, nor did I use any ointment at all until the entire three weeks were completed. Daniel 10:2 & 3"
2023 Prayer Focus:
Individual Spiritual Growth – growing in love with God – increasing activities toward God to be more spiritual-minded when it comes to things of God.
Church Spiritual Growth – Loving one another – serving one another.
Giving God praise for answered prayer. Praying for Worship Minister.