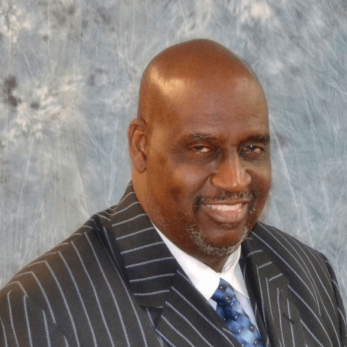 Ivory L. Varner
Sr. Pastor and Teacher
EDUCATIONAL BACKGROUND
B.S. Prairie View A&M University, 1971
M.A.B.S. Dallas Theological Seminary, 1995
D. Min. Covington Theological Seminary, 1999
PROFESSIONAL EXPERIENCE
Dr. Varner has served as Chairman of the Board of Trustees at College of Biblical Studies-Houston. For the past 30 years, he has been a driving force in its diverse student body's development and biblical education. He has also served as an Adjunct Professor at the College of Bible Studies-Houston, teaching a wide range of courses from Hermeneutics to Pastoral Leadership. He helped organize and served as CEO of ONEPowerfulMovement Community Development Center, a non-profit evangelistic outreach organization. The mission of ONEPowerfulMovement CDC is to meet the social, economic, physical, and spiritual needs of communities.
PRESENT MINISTRY
Dr. Varner is the founder and Senior Pastor of Bible Way Fellowship Baptist Church located at 10120 Hartsook Street, Houston, Texas 77034. He has served faithfully for over 43 years as Senior Pastor and Teacher of Bible Way Fellowship Baptist Church. He has organized a faith-based corporation to provide educational and economic revitalization opportunities to South Houston and neighboring communities. Additionally, to equip, empower and unite faith-based leaders, he has organized VIKA Ministries and trains and mentors pastors, ministers, and their spouses by promoting biblical standards to these individuals, their families, and their communities. He is also the founder of God's Elite Spiritual Forces, a dedicated ministry bringing leadership and development to men by equipping them for effective spiritual battles in the lives of their families and communities.
MISSION TRIPS
Dr. Varner believes wholeheartedly in supporting the work of like-minded believers in spreading the gospel of Jesus Christ. He and his team traveled on missionary trips to Kazakhstan in Central Asia, Ethiopia, and Costa Rica. Dr. Varner has taught other pastors and leaders at a Central Asia Leadership Training Center located in Almaty, Kazakhstan, and continues to make an impact around the world by spreading the gospel through sound biblical doctrines
and philosophies.
RADIO BROADCAST
Dr. Varner is dedicated to teaching and preaching the Word of God and is committed to effectively presenting the gospel from his weekly radio broadcast every Tuesday at 10:00 a.m. on 105.7FM (KHCB) Houston.
MARRIED
Dr. Varner has been married for over 50 years to First Lady Mary Polk-Varner. He is the father of two children, Catina and Ivory, and six grandchildren.